Back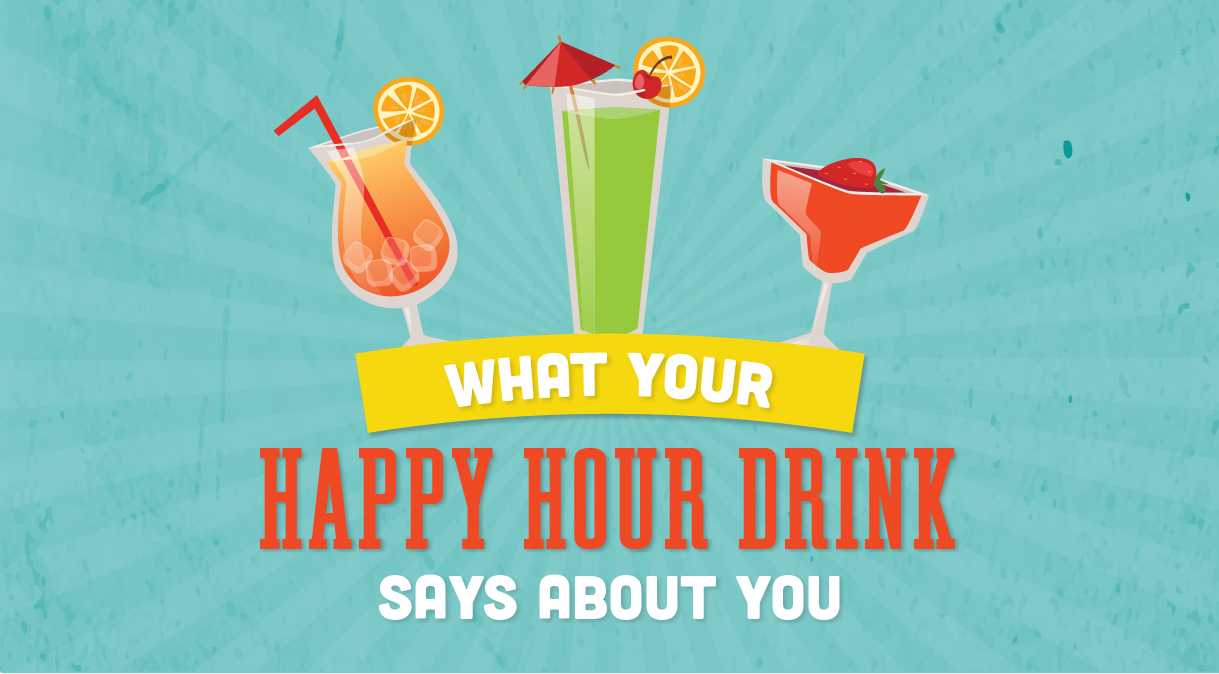 What Your Happy Hour Drink Says About You
Chattanooga Happy Hour
They call it Happy Hour for a reason, Amigos. Cause it makes you happy! Having a drink to wind down after your workday with a friend, significant other, or even just solo is a great way to decompress, treat yo self, and enjoy what would otherwise be an ordinary, humdrum cook-clean-sleep weeknight.
Chattanooga happy hour at Amigo is a great time to try a new drink because if it's not your jam, you're not out the full price! But it's also okay to stick to your faves, and be predictably you. Whatever makes you happiest. Regardless, we think your go-to beverage is a telltale when it comes to personality type, so here are our thoughts on what your happy hour drink says about you…
Margarita
Marg drinkers are: Risk Takers, High Energy, Wild
If you're a tequila drinker, you're also probably the life of the party. You're here to have a great time, and the people around you will likely have a great time too based on proximity alone. With a little salt, a little lime, and a lot of tequila, the world is your oyster, and you're not afraid to make each day one to remember (or one to forget if circumstances and marg count warrant such). If there's a dance floor, you'll certainly be on it, and you're not worried about what anyone thinks either.
Paloma
Paloma drinkers are: Fun, Social, and Ready for Anything
You're a night owl, and there isn't a party invite you'll ever decline. You love socializing, meeting new people, and making new friends along the way. If there's music playing, you're dancing, and your magnetic energy is likely drawing others out of their shells while you're at it. You treat each day like a vacation because you know it's all about your state of mind.
A Shot and A Beer
Shot + Beer drinkers are: Laid Back, Traditional, Efficient
You're likely sitting at the bar either alone or with one other close friend, and you may have even brought a book with you too. You enjoy newspaper crossword puzzles which you confidently complete in pen, live bands, dive bars, and keepin' it simple. You know in your heart of hearts that nothing gets the job done quite like the classic Boilermaker– a shot and a beer.
Old Fashioned
Old Fashioned drinkers are: Traditional, Sophisticated, Independent
You are a little fancy, but not in a pretentious way. You may don jeans and a button-down, but if so, that shirt is probably at least a little crisp. You're the type who is both fashionably late to the party and one of the first to dip 'cause you came, you saw, and then you wanted to go home and sit fireside with a great book, your dog curled up at your feet.
Wine
Wine Drinkers are: Traditional, Adventurous, Self Aware
Wine is your go-to bev of choice for many reasons, one being because it's the easiest drink to refill. (Keep em comin!) You're a conversationalist at heart who likes to keep things low-key, and you're self-assured in a way that people enjoy rather than finding themselves turned off by. You work hard, and you relax hard too as soon as that clock strikes 5.
Mocktail
Mocktail drinkers are: Responsible, Social, Creative
You're the mom of your friend group, and always planning ahead, being practical, and still managing to enjoy your outings regardless of that hefty sense of responsibility. Your friends both fully trust you and completely enjoy the energy you add to a gathering, even when you're keeping things completely virgin.
Happy Hour is from 3-9 pm!
No matter what your drink of choice is, we hope you'll come to enjoy one or two at Amigo after work one day soon during happy hour. Bring a friend. Invite your coworkers. Have a fun date night. Come alone. We'd love to serve you up a cold one of your choice while we ponder what your happy hour drink tells us about you because as it appears, Chattanooga happy hour is just one of many ways you can bare your soul!