Back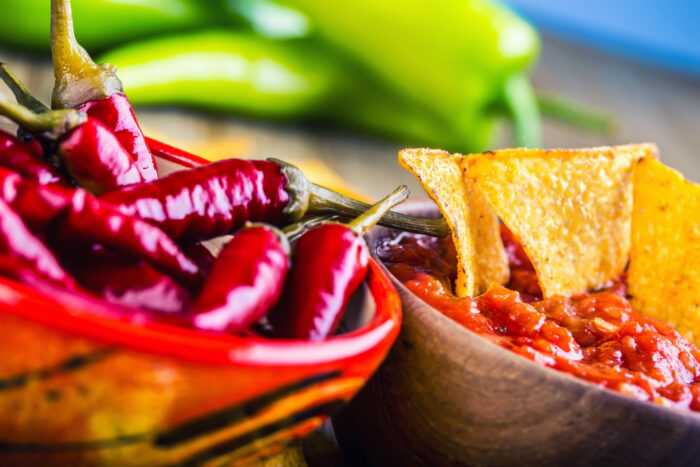 Chattanooga Spicy Mexican Food
If your attitude about Mexican food is "the hotter the better!", this article is for you! We're going to suggest some of the boldest dishes you can find with Chattanooga spicy Mexican food.
Technically, "spicy" is not a taste. Yes, you heard me right! Spiciness is actually a form of pain, and spicy foods contain chemicals that stimulate the pain receptors in your mouth. Some of those nerves also monitor temperature, which is why spicy foods give off a burning (hot) sensation when we eat them. The same type of reaction causes us to cry when cutting onions. If you're like us, you know it hurts so good!
A little "pain" can be good for us now and then. Peppers get their spice from something called capsaicin, which aids in lowering blood pressure and cholesterol and has also been found to improve circulation and relieve congestion. The trusty taste buds know that spicy foods have a kick, and Mexican food, in particular, has a reputation for being very spicy. We prefer to think of it as "mouthwatering". Besides, you can cool off with 2 for 1 Margaritas and daily specials on 32 oz draft beers!
SPICY APPETIZERS
Mexican foods contain some of the spiciest ingredients in the world including Jalapeño peppers. We suggest you try the new Jalapeño Bacon Dip, Chiles Toreados with Cebollitas Asadas, or Abuela's Guacamole for a sampling of the heat to come. Another appetizer, our Amigo Dip, contains cilantro, which is another Mexican staple known to put a stride in your step.
Still looking for an Entrée to Test your Fortitude?
ENCHILADAS SUIZAS
Two grilled chicken enchiladas topped with creamy suiza sauce and served with rice, lettuce, tomatoes, and sour cream. Substitute Grilled Steak or Grilled Shrimp if that's how you roll.
POLLO PICOSO
We bring the heat by cooking grilled chicken and sautéed onions with our spiciest salsa and famous white cheese sauce. Served with rice, refried beans, and three flour tortillas.
STEAK STRIPS WITH A KICK
Get ready for our spicy hot marinated strips of grilled steak, sautéed onions, and mushrooms served with rice, lettuce, guacamole, sour cream, pico de Gallo, and three flour tortillas. If you like it hot, it's sure to hit the spot!
LUNCH SPECIAL #7
One shredded chicken chimichanga, one tamale, and one shredded chicken flauta, topped with creamy suiza sauce and garnished with lettuce, sour cream, and mango pineapple sauce.
If you feel like you've gone too far, you can cap off your meal with a tasty dessert top of ice cream. See? That didn't hurt one bit. Be bold. Make lunch and dinner with Chattanooga spicy Mexican food more than a meal… make it an experience with zesty sauces, spices, and peppers. Contact us online for more information about our restaurant and to view menus for all of our locations.