Back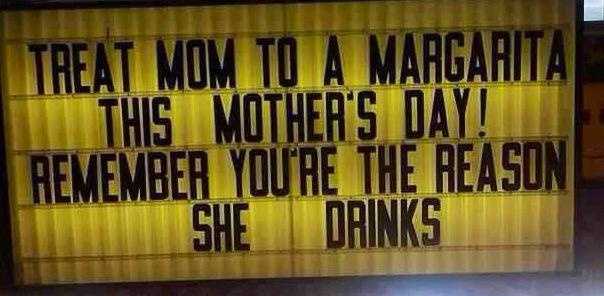 Reasons Your Mom Deserves Margs This Mother's Day
There is no denying that your mom is your hero and deserves to be treated like a queen at least once a year. This Mother's Day, give the gift every mom wants… margaritas and Mexican food.
Here are just a few reasons that the #1 woman in your life deserves margaritas this Mother's Day.
You are the reason she drinks.
There is no denying that through the years, you have caused your mother worry and given her a few grey hairs. While botox and hair color may help to elevate these issues, tequila is a far more economical choice, and much tastier if you're asking our opinions.
She raised an amazing child.
We all know Rome wasn't built in a day, and neither were you. She stuck by you through the terrible twos that lingered until age 18. She didn't make fun of you during your awkward phases, and she continued to be your parent when the going got tough. All and all, she raised a pretty amazing child, right!? Reward her with the good stuff.
It's a Tuesday.
Let's face it, being a mom is a full-time job with limited vacation and sick days. Even though you may be a (cough, cough) adult these days, you still rely on that little lady. Think of all the times she was awake with you during the night when you were sick or convinced there were monsters under your bed.
She's a jack of all trades.
While you may know her as mom or mommy or mama… chances are that she is wearing more hats than that. She spent years serving as your cook, housekeeper, launderer, taxi driver, nurse, and so on. Our guess is that she did all of these things without a thank you. Here's your chance to make it up to her.
Because she told you so.
"Why do I have to clean my room?" "…because I said so." "Why can't I go?" " …because I said so." Those have to be every mother's famous words. Why do you take her out for margaritas? Because she said so that's why! And if that isn't reason enough, then you are not winning the child of the year award any time soon!
She gave birth to you.
She carried you for 9 months, endured the pains of labor, and then spent many a sleepless night caring for you. The least you could do to thank her for all the sacrifices she made is to treat her to a margarita and Mexican food. Really though, she gave birth to you… so you should probably make that a pitcher!