Back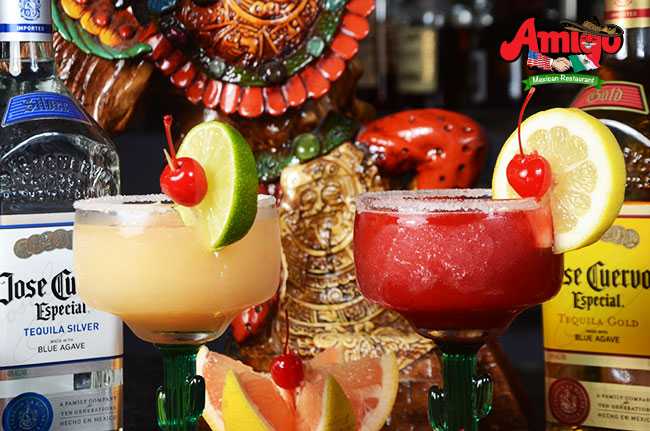 Margarita Madness
Whether it's a cold, snowy winter day or the dog days of summer there's no better time for a marg. While we're a fan of the classics like Budweiser or a traditional margarita on the rocks, sometimes the occasion, or Thursday night, calls for a little something extra. We're not talking about bringing out the shot glasses, we're talking about a drink out of the ordinary. When you need to add a little pep to your step try these tasty margarita concoctions!
Blackberry Lemonade Margaritas
Blackberry Puree:
1 ½ – 2 cups fresh blackberries, rinsed and drained
1- 2 tbs. sugar
Margarita:
¼ cup sugar
2 lemons
4 tsp. blackberry puree
4 oz. prepared lemonade
4 oz. silver tequila
Process blackberries in a blender until smooth. Use a colander to drain the puree. Add 1-2 tablespoons to the puree and stir. Add additional sugar if desired. Add the zest of one lemon to the mix. Add all ingredients to the shaker and shake vigorously. Rim glass in sugar and serve over ice.
Champagne Margaritas
4 tbsp. lime or key lime juice
2 oz. Hornitos Plata tequila
2 oz. pineapple juice
2 oz. triple sec
1 bottle champagne or prosecco
lime wedges
kosher salt
Rim glasses with salt. Mix all ingredients together and pour into glasses. Top with Prosecco or champagne. Garnish with a lime.
Cherry Limeade Margarita
1 can frozen limeade concentrate
1 can water (using limeade concentrate can)
2 tbsp. grenadine
3 tbsp. tequila
Combine all ingredients into the blender and fill with ice. Blend on high until smooth. Add additional ice if necessary. Top with maraschino cherries and lime slices.
Blood Orange Margarita
6 oz. blood orange juice
2 tbsp. lime juice
4 oz. silver tequila
2 oz. triple sec
limes
kosher salt
Rim glasses with salt. Add all ingredients to the shaker and mix well. Pour over ice.