Back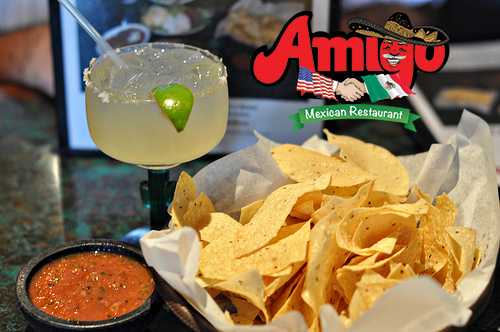 Got Salt?
So, what do margaritas and tortilla chips have in common? Aside from being a delicious gift from the Heavens…. Yep, you guessed it – SALT! Not only that, but they also share the same National Food & Drink Week – this week! (All the more reason to eat at Amigo's, right??!) In homage to this Mexican, flavor-filled week, here are 5 reasons to come to Amigo Mexican Restaurant looking for your lost shaker of salt.
1. Two for One Margs.
To share or not to share? You decide. Get two margaritas for the price of one during happy hour, every day. Flavored, traditional, frozen, or on the rocks, you can't go beat an Amigo's margarita. Call your favorite location for specific times and prices.
2. All the Dips.
Consider the tortilla chip your edible spoon for delicious, freshly prepared dips. We're talkin' guac, queso, bean, spinach, and Amigo dip! Heck, order all 5 and double dip, we're not judging.
3. Salt = Healthy.
Studies have shown that an adequate amount of sodium actually encourages a healthy weight and fast metabolism. With that said, bring on the bottomless chips! And can we get an amen for the extra salt-rimmed margarita?! Amen.
4. On a Budget? No Problem.
There's no denying that everyone needs authentic Mexican and Tex-Mex in their life (cough… a couple of times a week, at minimum). We can also agree that there's no need in spending a fortune to enjoy it either. Join us for a budget-friendly fiesta today!
5. Make it an Amigo Fiesta!
Bring a friend and stop in for some gooey queso goodness, kickin' margaritas, warm tortillas, fresh chips and salsa, and authentic Mexican food that can't be beaten.