Back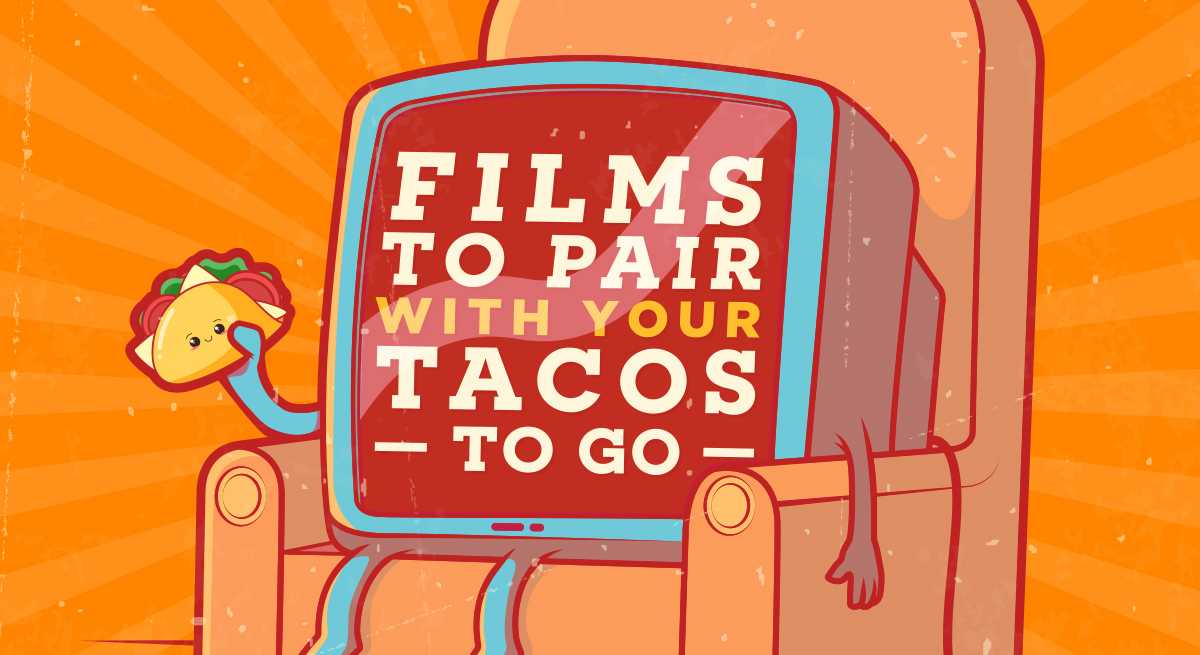 Films to Pair with Your Tacos To Go
In an effort to fuel your love for delicious Mexican takeout while also inspiring your appreciation for Mexican culture, we've put together a little list of film suggestions to pair with your favorite tacos to go. Some are old and some are new, but they're all a great way to spend a night in!
1– Selena
Couch, tacos to go, and Selena? Sign us up. This 1997 film celebrates the life and music of Tehano music star, Selena Quintanilla-Pérez, a recording artist who was beloved in Mexico and the Latino communities across the United States. Perks: see J Lo in her breakout role as Selena, and get off the couch for a post-tacos dance party. ¡Baila Esta Cumbia!
2– Coco
Another film choice for your fiesta at home (con tacos) is the 2017 3D computer-animated film Coco. The concept for this film was inspired by the Mexican holiday Dia de los Muertos, or the Day of the Dead, and it features an all-Latino principal cast. Praised for its animation, voice acting, emotional storyline, incredible score of music, and respect for Mexican culture, Coco is a must-see. Word to the wise: you may want to keep the tissues nearby when you view this one. Tears + tacos? No shame in that! Go ahead. Get in those feels.
3– Frida
Can't leave this one out. This 2002 American biographical drama details aspects of the professional and private life of Frida Kahlo, the famous Mexican surrealist artist. Starring Salma Hayek in the title role and Alfred Molina as Diego Rivera, Frida received positive reviews and won two Academy Awards– Best Makeup and Best Original Score. Learn a little more about the life, love, work, and strange traumas of this Mexican artist, of course, with a side of tacos to go!
4– Instructions Not Included
Unlike our very simple tacos-to-go instructions (literally step 1: order tacos to go from Amigos + step 2: enjoy them), babies don't come with instructions. Instructions Not Included, a 2013 comedy-drama, follows the story of a Mexican playboy whose seductions must take pause when an ex-fling shows up at his doorstep with a baby she claims he fathered. The woman flees leaving our protagonist to figure out life as a dad. This unorthodox film stitches together moments of comedy with raw human emotion to tell a tale about life, love, courage, and parenthood. Give it a try with your next Amigo take-out order!
5– El Estudiante
If you're looking for an uplifting film selection that'll warm the heart, consider watching the 2009 film El Estudiante with your Amigos tacos to go. El Estudiante weaves the tale of a 70-year-old man, Chano, who enrolls in a local university, despite his age, to study literature. Chano's love for literature, and particularly Don Quixote fuels his attempts to bridge the generation gap between himself and his much younger college counterparts. Love, hope, and solidarity are recurring themes in this film, as Chano gracefully plays both student and teacher.
Regardless of what you're streaming, we hope you'll pair it with delicious tacos to go from your neighborhood Amigos. And don't forget the cheese dip!