Back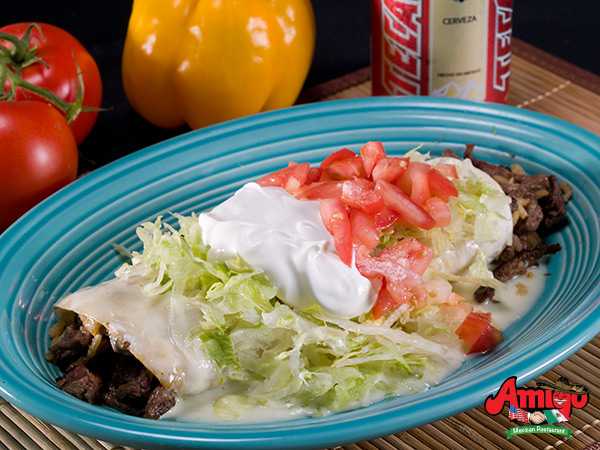 5 Steps to Turning a Bad Day Into a Fiesta
We've all had them and can all relate that "terrible, no good, very bad days" are the worst. Before you decide to research plane tickets to some faraway place, we've got 5 simple steps to turn your frown upside down and your day into a fiesta! Take notes, amigos!
Step 1: Queso and Guac
Forget emotions. We don't know about you, but we'd prefer to be full queso and guac. There is absolutely no denying that queso is one of the greatest comfort foods known to man. It's rich, creamy, and oh so delicious. You have guac to be kidding us if you think a bad day can't be cured without chips and guac or queso.
Step 2: Margaritas
Nothing can wash away work woes or relationship drama faster than the cold, salt-rimmed rim of a margarita. Frozen or on the rocks, flavored or traditional, take your pick! Any Amigo margarita you choose is sure to wash away your aliments. We've heard that alcohol doesn't solve problems… but neither does milk… so…
Step 3: Burritos
Do you know what helps make a bad day better? Presents… and food. Combine the two and what do you get? A burrito! After all, tortillas are basically gift wraps you can eat. Meat, cheese, veggies, rice, and all the saucy deliciousness neatly rolled into that soft, warm tortilla is just what the doctor ordered!
Step 4: Desserts
Stressed spelled backwards just happens to say desserts. Coincidence? We think not. If life's problems have you squeezing that stress ball a little harder than usual, we've got the answer. Flan, churros, and fried ice cream have all been proven to put you in a much sweeter mood.
Step 5: Tequila
When all else fails… go for the big guns. Tequila doesn't ask questions. Tequila understands.
When the bad day blues have you dreaming of better days, head over to Amigo Mexican Restaurant! We've been known to make bad days better, but beware… We May Be Habit Forming!