Back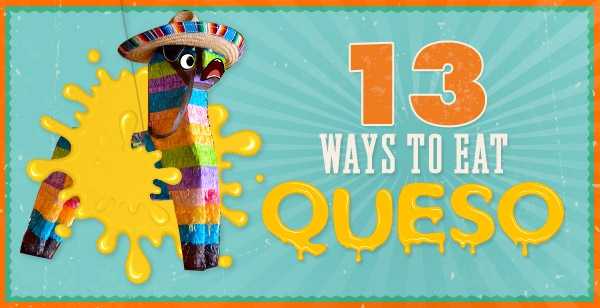 Thirteen Ways to Eat Queso: Number 9 Will Surprise You!
Spanish for "cheese," queso is common in Mexican dishes. Queso Fresco ("fresh cheese") is perfect for Mexican cooking because the milkiness that comes from being made from raw cow milk offsets the heat from spices. That quality also balances the richness of other dishes, activities, and matters of serenity.
1. Fill a Piñata with Queso!
Traditionally filled with children's candy, fans of the Mexican staple may find a new horizon in the previously underutilized but always delicious… Queso Piñata. Blast through the cardboard shape of your favorite animal and discover the cheese-filled glory that awaits you… and your friends… and the floor.
2. Quesadilla
In Mexico, the tortilla is typically filled with Oaxaca cheese, but in the US, a grated cheese like Monterey Jack, Cheddar Cheese, or Colby Jack is sprinkled amongst shredded meat, peppers, onions, or guacamole. Is anyone else suddenly hungry reading this? You can find the Quesadilla Deluxe on the lunch menu at Amigo Mexican Restaurant, Monday – Saturday from 11 am – 3 pm. On the dinner menu: Paradise Quesadilla, Quesadilla Mexicana, Vaca Flaca Grilled Quesadilla, La Villa Chicken Quesadilla, Quesadilla Rellena, Spinach Quesadilla, Fajita Quesadilla, and La Tradicional Quesadilla. For your kid or senior, cheese quesadilla… Did we mention that Quesadillas are awesome and you should come to eat some now?
3. Queso Squirt Gun
Imagine sliced mozzarella cheese mingling with the finger thrusting abilities that lay just behind the trigger of your ol' trusty squirt gun. Add avocado, salsa, and fajitas for a fiesta of flavor in your mouth.
The popularity of American cheese in Tex-Mex has inspired other cultures to adopt their own version. This particular one involves chopped kimchi combined with melted cheddar cheese, sour cream, and red pepper powder, garnished with chopped green onion. The chunky result goes great with tortilla chips or raw vegetables.
5. Queso Fountain
The cheese must flow!
Crumbled queso fresco adds cheesiness to this traditional Mexican dish eaten at breakfast or brunch. Use leftover tortillas and salsas or make fresh with refried beans, tortillas, green or red salsa, and pulled chicken. Some people confuse this dish with Tex-Mex migas, but they are wrong. A variation called chilaquiles con camarones secos adds dry shrimp.
7. Cheese Art!
Who said a grown-ass man can't play with his food? Create the divine… from the divine. And then devour it. Much like the zen teachings of the Buddha Board, cheese art allows us to appreciate the multifaceted abilities of our beloved, while we transcend the futile and fleeting existence that is the life of a warmed cheese.
8. Queso Costeño Buñuelos
The special kind of cheese used in the recipe for Cheese Fritters comes from Columbia. If you don't want to hop on a plane and grab some, you can substitute queso fresco and feta. The other ingredients include cornstarch, tapioca starch, egg, and milk. Believe it or not, this dish is served at Christmastime with hot chocolate.
9. Bath Ó Queso
How does a dish consisting entirely of melted hot cheese sound? What if you took that dish and shot it with a super-sizing gun to create your very own queso-filled pool? Can we install a diving board and jump in head first? Although we cannot legally suggest you attempt this in a receptacle deeper than 2-feet, we would like a follow-up on the impact of a cool breeze or direct sunlight on the cheese consistency, affecting your ability to swim…
10. Queso Flameado
A similar dish is an appetizer called Queso Flameado, standing for "flamed cheese," in which a meat sauce of loose fresh chorizo, tomato, onion, chile, and spices is prepared separately, then combined just before serving. If only you were the size of a bean, and could take a dip!
11. Queso Mac & Cheese
A long over-do twist on an American classic. If your family has been doing this, please circle back. We need your recipes!
12. Bloody Queso Mary
Fry up some of your favorite vegetables, add some pepper vodka or tequila, pour over your favorite Bloody Mary mix, finish with a lemon wedge, and top with queso fresco. Pickle lily pad… anyone?
13. Grilled Queso Sandwich
Of course, the cheese sandwich! The staple of many a single man's diet. Is there anything better than gooey goodness dripping from between two slices of toasted ciabatta bread? We think not. Unless it ALSO involves queso. Come explore the delicious delights of queso dishes at an Amigo Mexican Restaurant near you and wash it down with daily happy hour specials, featuring 2 for 1 house margaritas and deals on draft beer.