Back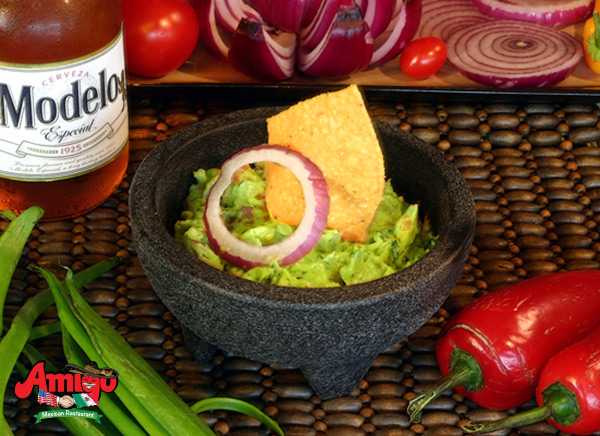 Chips and Guacamole: The Staple of Diets For Centuries
Tortilla chips and guacamole are staples in the diets of most Tex-Mex-loving Americans. Like peanut butter and jelly, chips and guac' are a time-honored pair. For many, it is unheard of to sit down for dinner or a happy hour without this tasty combination.
Since the time of the Aztecs, guacamole has been a staple of ethnic cuisine. The avocado became very popular among Spaniards due to its high protein and fat content. Believed to be an aphrodisiac, the fruit was typically eaten with sugar or salt or some cases with a combination of the two. Guacamole recipes began gaining popularity shortly after the Spaniards discovered this super fruit of sorts.
Traditional guacamole is based on only a few ingredients.
Avocado: As the main ingredient, the avocado is the key and one of the most flavorful ingredients. There are several varieties of avocados grown throughout the United States. The Hass avocado is the most popular variety and is regarded by many as the best choice for making guacamole.
Chiles: Based on their wide availability in Mexico, serrano chilis or jalapenos are the first choices to spice up your guacamole. If you prefer the flavor to spice, finely chop the pepper before adding them.
Onions: Most traditional recipes call for the white onion. Unlike the yellow, red, or purple varieties the white onion has a pure hot flavor rather than a sweet taste. The onion should not overpower the other flavors in the guacamole.
Tomatoes: The tomatoes should be ripe but firm to maximize flavor. If tomatoes are not in season, try using Italian or plum-style tomatoes.
Cilantro: This staple seasoning of Mexican cuisine has a pungent odor and distinct taste. Cilantro will add a nice hint to your guacamole.
Check out this easy recipe for homemade guacamole, or better yet, come see us tonight for fresh chips and guacamole!
Ingredients
3 tablespoons finely chopped white onion
4 serranos chills
2 rounded tablespoons cilantro
1/2 teaspoon sea salt
3 large avocados
2/3 cup tomatoes, finely chopped, not peeled
Toppings
2 tablespoons white onion, finely chopped
1 tablespoon heaped, finely chopped cilantro
2 tablespoons finely chopped tomatoes
If possible use a molcajete to prepare your guacamole. Grind the onions, fresh chilies, cilantro, and salt to a rough paste. Cut the avocados in half, remove pits and scoop out the flesh. Mash the flesh roughly into the chili mixture, turning the mixture over so that the seasoning is well distributed. Serve with chips or warm tortillas.