Back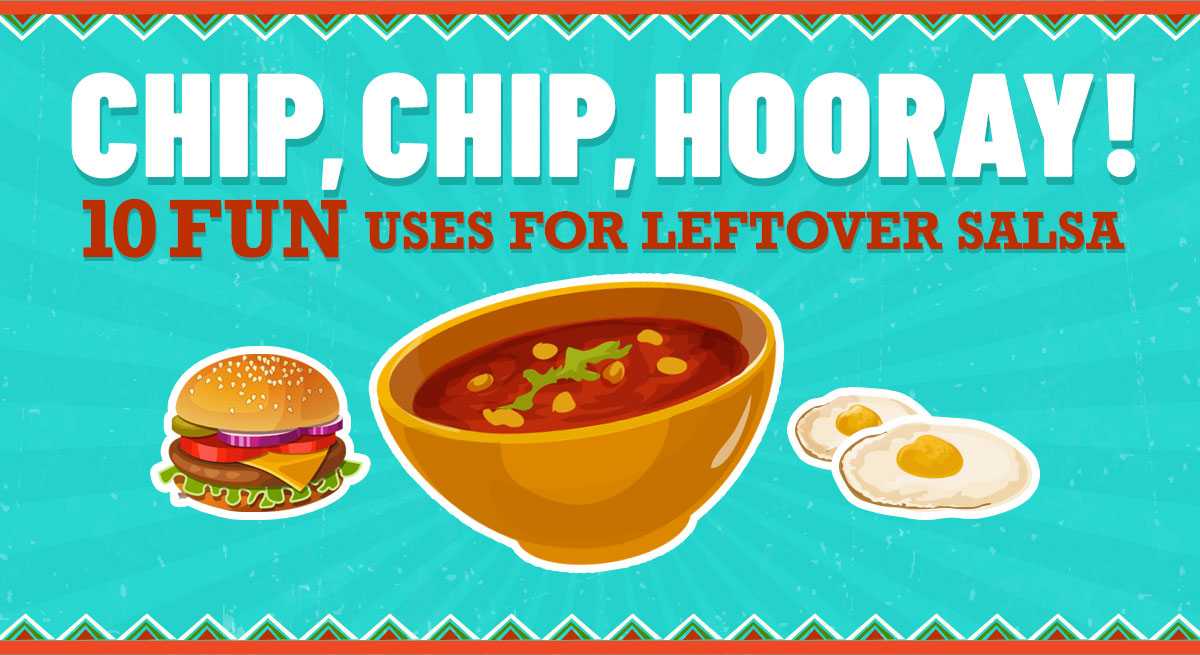 Chip, Chip, Hooray! 10 Fun Uses for Leftover Salsa
What To Do With Leftover Salsa
If you ask us, there are few things in life better than chips and salsa, especially our delicious, house-made salsa at Amigo Mexican Restaurant. Of course, there always seems to be leftover salsa after your meal is finished, and you'd be remiss to throw it out. So if you're wondering what to do with leftover salsa, we've got ten creative uses that just might inspire you to take that beloved, spicy, tomato-based sauce home with you to live another day.
1– Top your morning scrambled eggs or omelet.
Breakfast is one of life's greatest joys. Make your morning meal even better with a drizzle of spicy salsa from Amigo.
2– Add a dollop of salsa to your burger.
On burger night, turn up the heat with a little salsa on top of your burger instead of ketchup and mustard.
3– Use it as a dip for your grilled cheese.
No time to make tomato soup? No problem. Just dip your grilled cheese sandwich in salsa for a Mexican twist on this classic combo.
4– Mix it into meatloaf.
Step aside, ketchup. Add your leftover salsa to Mom's famous meatloaf recipe for a fun take on this American favorite.
5– Make homemade gazpacho.
Use your leftover Amigo salsa to make your own version of the Andalusian classic soup. This light, fresh, no-cook soup is easy to make, with cucumbers, jalapeños, tomatoes, and vegetable stock puréed– and of course, leftover salsa.
6– Make a dip.
Looking for a quick afternoon snack? Mix your leftover salsa with goat cheese for a delicious and quick dip for crackers and raw veggies.
7– Homemade ceviche.
Leftover salsa, but make it fancy. If you're a ceviche fan, make your own at home by combining your Amigo salsa with lemon or lime juice. Ba da bing.
8– Make Mexican baked chicken.
For a quick and easy weeknight dinner, top chicken breasts with leftover salsa and shredded cheese before baking. After a long day of work, you'll appreciate this speedy, low-effort dinner.
9– Sub it for pasta sauce.
Add a kick to pasta night when you sub leftover salsa for marinara sauce. This can add a nice layer of flavor to an alfredo dish or a simple olive oil-based pasta meal.
10– Make burrito bowls.
This easy meal is delicious, but also a great option for those who swear by meal prep. Rice, beans, whatever toppings you prefer, a little leftover salsa, and you've got lunches for the whole week your coworkers will covet.
At the end of the day, we don't care how you use your leftover salsa, as long as you use it. Next time you eat with us at your neighborhood Amigo Mexican Restaurant, don't forget a ramekin to take your salsa to go! Get creative, and you can enjoy the flavor of Amigo even when you're cooking at home.