Back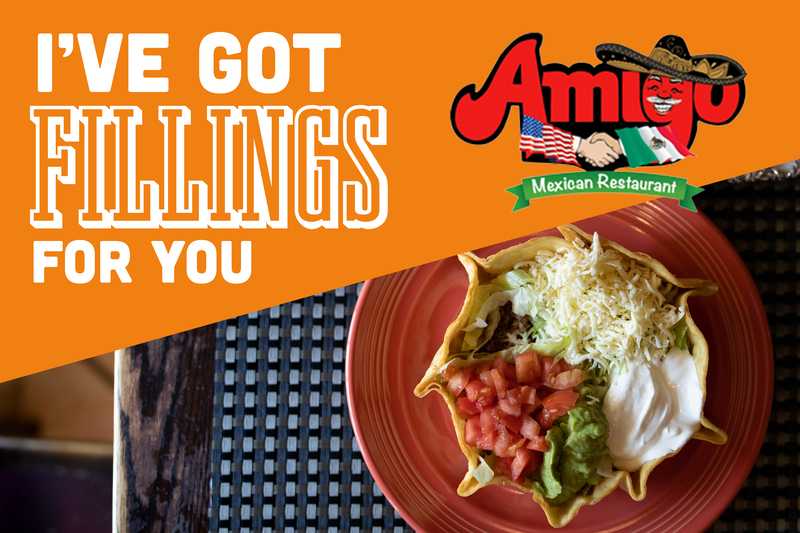 6 Reasons to Make Amigo Mexican Restaurant Your Valentine's Date Spot
Valentine's Day is a special time for you and your boo, but what will you do this year to celebrate? We've got 6 reasons why you should bring your date to Amigo Mexican Restaurant this year, and it all begins with the right appetizer.
1– Guac Your Valentine's World
Reason one is you can start the date off with a delicious appetizer of guacamole and chips, or go big and get several dips. When I dip, you dip, we dip. And if you like it chunky, be sure to try Abuela's Guacamole complete with a hint of jalapeño for just the right amount of heat.
2– Taco Bout How Much You Love Each Other
Ok, nothing says "l love you" like the best tacos in town, right? So this Valentine's Day, enjoy tacos– beef, bean, crunchy, soft shell, or mexicano– at your favorite Chattanooga Mexican restaurant. Don't forget to taco bout how lucky you are to have such a spicy date.
3– This is Nacho Friend Zone– It's the Love Zone
Go ahead. Sit on the same side of the booth, and share a plate of our delicious nachos smothered in that delicious queso. Because let's be real, nothing says love quite like cheese.
4– You Can Buy Her a Bae-ritto
Buy your gal a bae-ritto this Valentine's Day at your neighborhood Amigo, and she'll thank you later. Try the beef, bean, veggie, shredded chicken, grilled steak, carnitas, and even grilled shrimp. And don't forget to tell your girl you have strong fillings for her.
5– Lettuce Celebrate Love with an Amigo Salad
Cozy up, and share an Amigo Salad with your Valentine. This delicious fried flour tortilla bowl comes filled with layers of rice, lettuce, your choice of meat, and is topped off with grilled onions, peppers, mushrooms, and our famous white queso sauce. Queso, you're gonna love it.
6– Margaritas for One Are Still Fun
If you're flying solo this year on V-day, don't fret. Just come grab a table for one, order a couple of margaritas, and bring a book to read. Perhaps Tequila Mockingbird? You choose, but we know how to keep the drinks and dips flowing.
No matter how you choose to celebrate Valentine's Day, who you're with, or what you order, we hope you'll come see us at Amigo Mexican Restaurant, or order take out or delivery for a fun and spicy night in with your amor.